A perfect recipe for beginner bread-makers.   It's so quick and easy to make, and utterly delicious straight from the oven spread with butter and honey!
Irish legend has it that the cross on the top is to let the fairies out ( … but in fact it's help the loaf rise!)
Ingredients
190g self raising flour
150g whole wheat or spelt flour, plus extra for dusting
1 tsp salt (6g)
310ml semi skimmed milk
Juice of half a lemon
2 tsp black treacle
2 tsp runny honey
50g raisins (optional), torn in half and dusted in flour
Pumpkin seeds, sunflower seeds, poppy seeds, for the mixture or the top (not used in schools because of allergies, but you could add these at home)
For the toppings:  diced cucumber, halved cherry tomatoes, cream cheese, smoked salmon, chives, parsley, basil, or butter and honey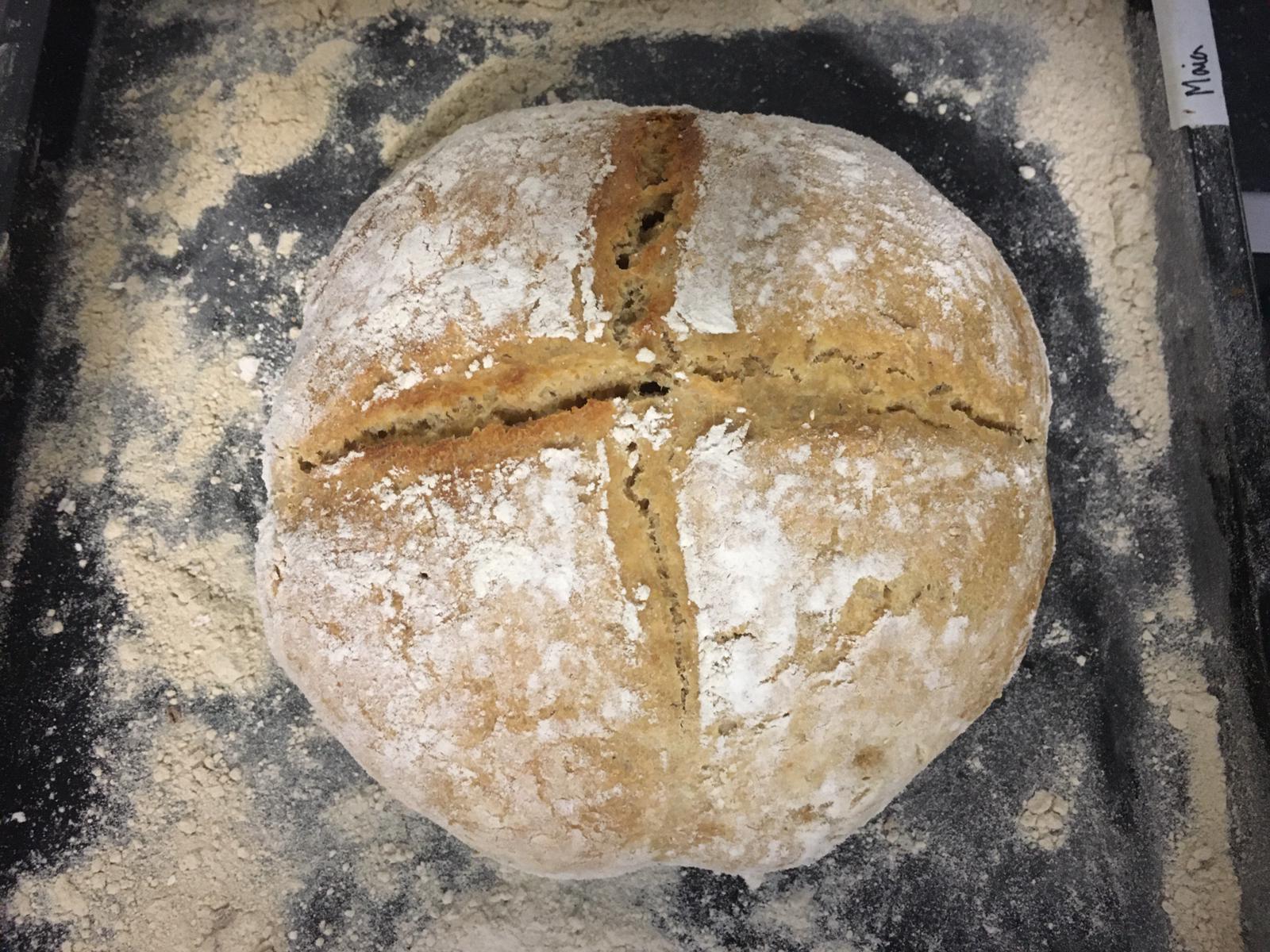 Method
Put the flours (white and wholemeal), seeds (if using) salt and bicarbonate of soda into your bowl and stir well, using your spoon. Make a big hole in the middle of the flour.
Measure the buttermilk, black treacle and honey into a separate bowl. Whisk together with a fork and add this mixture to your flour mixture, using your spatula to scrape it all in.
Stir the mixture using your wooden spoon until all the dry flour has disappeared and you have a really sticky dough.
Put some flour onto your baking tray, flour onto your work surface, and flour onto your hands.
Turn out the dough onto the floured baking tray using floured hands or your spatula. Handling it as little as possible (it will be very sticky!) form it into a round.
Using a knife dipped in flour make a deep cross on the top of the loaf, and sprinkle some flour on top.